GUIDES AND SERVICES FOR HIKING IN SARDINIA
Why choose Explorando Supramonte:
we start with a dinner with shepherd, the next nights we always stop along the sea, we do the via Ferrata de Us Lederes de Golorissé we stop to camp at the Grotta del Fico, amazing exclusive of Explorando Supramonte.
Together with our local guides, an Alpine guide will be present during the stages that include climbs/rappels.
SELVAGGIO BLU LOGISTIC SUPPORT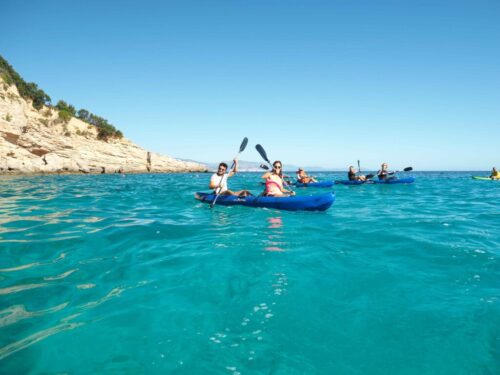 KAYAK RENTAL
along the coast of Baunei Cala Goloritzè hike
jeep + boat back to town
Cala Mariolu hike
about 3 hours
Cala Biriala hike
about 2 hours

Amazing trip
I loved this organisation for many reasons. they were super flexible in accomodating our needs and wishes. they provide logistics support with cars, motor boats etc, very efficient. our guide claudio was the best, very pleasant and trustworthy, he gave us the confidence to complete the itinerary and the most difficult parts. plus, he told us many interesting stories about the territory. the organization is doing an amazing work to preserve and promote the park of baunei, we appreciate it and are grateful for this!

Selvaggio Blu
Thank you Manuela and Mario for helping and providing logistics for our trek! We were a very heterogeneous group of 7 women with no mountaineering experience. We were guided by Stephano and Marco with the help of Sandro and Nicola. They were excellent.The views were spectacular and the via Ferrata and abseiling fantastic.
The food was exceptional.The wine, mirto and grappa definitely a bonus!
Would highly recommend for fit individuals in quest of adventure and challenge

Merveilleuse journee en bateau
Une journée intense de 8h45 à 17h45, mais formidable. Les capitaines s'arrangent avec les autres bateaux en chemin pour ne pas tous être au meme endroit au meme moment. Meme si sur Mariolu il y a du monde, cela tourne suffisamment pour que chacun puisse profiter.

Whether it's a simple question or a booking request, we'll be there to help you.
You can call us, text us, via Whatsapp or email.
Porto Turistico
S. Maria Navarrese
08040 NU